DisplayLink – It Just Works
DisplayLink-enabled docking solutions simplify infrastructure deployment providing future and backwards compatibility for any operating system, any platform, and any USB connector (Type-A, Type-C, Micro-USB, etc.)
Easy to Roll Out
Full support for Corporate Install and Microsoft-signed drivers simplifies the installation process based on your organization's wants and needs.
Any Device
DisplayLink works across the USB interface present on all of today's computing devices taking the pain out of infrastructure deployment.
Any Operating System
Download the driver (Windows/mac/Linux), an app (Android), or use it out of the box in Chrome OS, then simply connect to a DisplayLink dock.
Any USB Connector
Hot desk connectivity is as simple as plugging in a standard USB cable. We call this "Plug and Display".
Easy to Maintain
DisplayLink works closely with key industry partners, customers and Fortune 500 companies to ensure a seamless end-user hot desking experience.
Future-proof Technology
Supporting the transition from USB Standard A to USB-C, and scalable in resolution from below 1080p all the way up to multi-4K displays.
Backwards Compatible
From legacy computers to cutting-edge platforms and even employee-owned devices DisplayLink ensures broard compatibility that simplifies infrastructure investment and reduces TCO.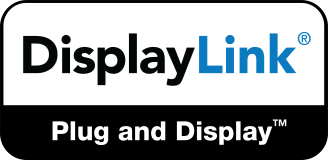 Powering the world's best hot desking docks
Look for the DisplayLink "Plug and Display™" mark of quality on all leading hot desking docks to ensure a flawless experience.