Imagine if through some warp in spacetime yourself of ten years ago appeared in your bedroom this morning. What would surprise her? The baby is now twelve, and you moved to a bigger house. That's predictable. The technology looks no more futuristic. The cellphones are a little bigger, a few more cars run on electric power, but even of the most high-tech gadgets seem little different than they were a decade ago. (OK, if she looks very... Read more
About AudioSmart Far-Field Voice Technology
There are a broad variety of companies that have developed sophisticated voice service platforms including Amazon with their Alexa Voice Service (AVS), the Google Voice Assistant (GVA), Samsung's Bixby, Apple's Siri, Naver and NTT Docomo which are popular in Japan, SK Telecom and Korea Telecom in Korea, and Baidu, Alibaba and Tencent in China. These companies have a very complex voice-centric software platform that is customized for specific... Read more
IoT device makers know the benefits of edge-based processing, but until now, many of the challenges in terms of cost, performance and security have made it impractical for implementing in consumer products and systems.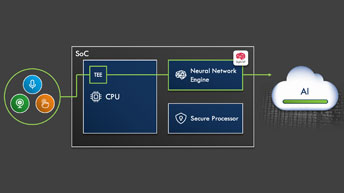 The shift toward more use of edge processing in... Read more
It's that time of year again for the big IBC conference in Amsterdam and we're really excited to meet with our key customers and the service providers that deliver all of the wonderful entertainment to our smart living rooms and smart devices. This is an excellent show for Synaptics because it brings together under one roof just about all of our partners in the media streaming world so that we can... Read more
Federico Faggin and Carver Mead founded Synaptics over thirty years ago to commercialize their ideas around building silicon that computes as effectively as the human brain. This focus on enabling devices to mimic human cognitive capabilities persists at Synaptics to this day. 
Younger engineers today may not know our co-founders, but they are industry giants. ... Read more