Synaptics Brings World's First In-Display Fingerprint Sensors for Smartphones to Mass Production with a Top Five OEM
Clear ID Optical Sensors are Faster, More Convenient and Secure than Alternative Biometrics
SAN JOSE, Calif. – December 12, 2017 – Synaptics Incorporated (NASDAQ: SYNA), the leading developer of human interface solutions, today announced mass production with a top five OEM of its new Clear ID™ FS9500 family of optical in-display fingerprint sensors. Designed for smartphones with infinity displays, Synaptics' Clear ID in-display fingerprint sensors magically activate in the display only when needed. Clear ID is faster than alternative biometrics such as 3D facial, highly-secure with SentryPoint™ technology, and very convenient with one-touch/one-step biometric authentication directly in the touchscreen display area of smartphones.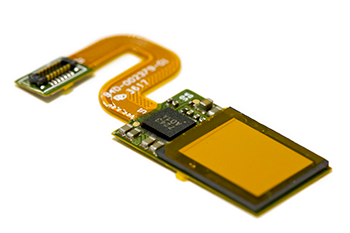 The new Synaptics Clear ID optical fingerprint sensors deliver one-touch high-resolution scanning through full cover glass and enable sleek, button-free, bezel-free infinity displays. Synaptics' high-performance Clear ID FS9500 optical solution excels with wet, dry and cold fingers, and since it's protected by glass, is durable, scratchproof and waterproof. In-display fingerprint technology allows users to securely unlock the device in situations including while it's sitting on the table, at any angle, or while in a car mount. Synaptics' Clear ID performance is twice as fast as 3D facial recognition and requires only one touch to access your smartphone.
Serious Security:
Synaptics optical fingerprint sensors are available with SentryPoint™ technology, offering OEMs a wide-range of unique and highly secure authentication features including: Quantum Matcher™ for adaptive fingerprint template matching and authentication; PurePrint™ anti-spoof technology to examine fingerprint images using unique artificial intelligence technology to distinguish between spoofs and actual fingers; and SecureLink™ which combines support for TLS protocol with ECC authentication and AES encryption.
"Consumers prefer fingerprint authentication on the front of the phone, and with the industry quickly shifting to bezel-free OLED infinity displays, the natural placement of the fingerprint sensor is in the display itself," said Kevin Barber, senior vice president and general manager, Mobile Division, Synaptics. "Synaptics' Clear ID fingerprint sensors are faster, more convenient, and more secure than alternative biometrics, and this optical technology represents a major innovation shift and opportunity for the smartphone market."
Join us at CES:
Synaptics welcomes press and analysts to join us for a live demonstration of in-display fingerprint on a full-production, soon to be announced Tier 1 customer phone. For a private appointment, please contact Synaptics@vocecomm.com.
About Synaptics Incorporated
Synaptics (Nasdaq: SYNA) is changing the way humans engage with connected devices and data, engineering exceptional experiences throughout the home, at work, in the car and on the go. Synaptics is the partner of choice for the world's most innovative intelligent system providers who are integrating multiple experiential technologies into platforms that make our digital lives more productive, insightful, secure and enjoyable. These customers are combining Synaptics' differentiated technologies in touch, display and biometrics with a new generation of advanced connectivity and AI-enhanced video, vision, audio, speech and security processing.
Follow Synaptics on LinkedIn, Twitter, and Facebook, or visit www.synaptics.com.
For Public Relations, please contact:
David Hurd
For Investor Relations, please contact:
Jason Tsai
Follow Us