What lies ahead in mobile displays
Jan 15, 2021
By Janice Mori
The smartphone market is a brutally competitive one and suppliers battle it out on a wide range of features with each new generation of device. Perhaps most obvious to consumers – and influential in their purchase of a new smartphone – is the device's display. Beside being the most visible part of the device, it is also where people spend the most time these days. Ironically, what was developed as an audio communications device has transformed into much more of portable all-purpose computing and entertainment device. The telephone feature has been relegated to a second-tier app! We no longer obsess about talk time and instead stress about alerts on screen time.
Which is why the phone's touchscreen display, it's size, colors, brightness, responsiveness, power consumption and durability of the display has become such a critical feature for how companies differentiate their products. The display also drives the physical form of the phone, from the size of the viewing area, to the cutouts for cameras and sensors, to the overall thickness of the device itself. As the displays have stretched to cover the entire front of the phone in recent years – even wrapping around the edges or starting to become foldable – changes in display technology will continue to be a driving force in the evolution of the smartphone.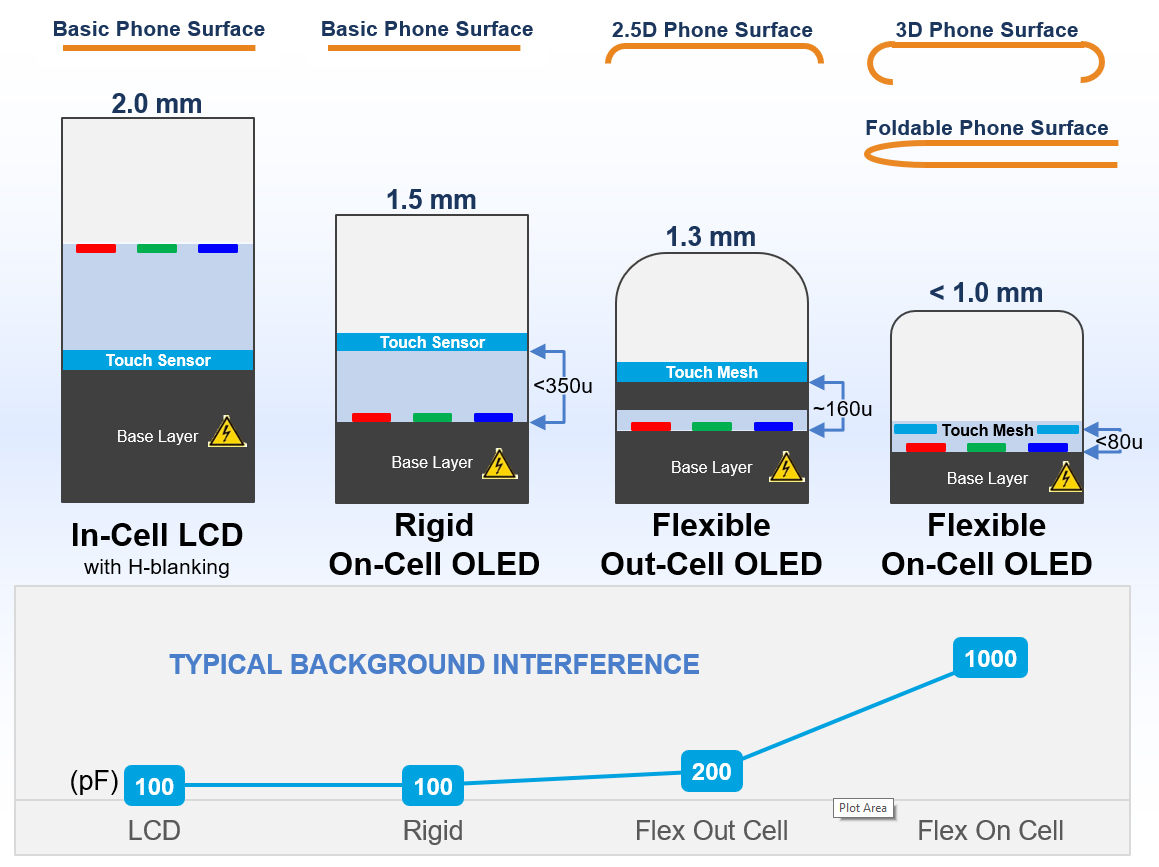 Synaptics has a long history of enabling displays in mobile devices. In fact we enabled the world's first touchscreen phone (LG Prada), and our display driver ICs are considered the top choice for many manufacturers. On top of that, we have deep experience in capacitive touch technology, based on our original legacy as supplier of the world's first PC TouchPads and scroll wheels for classic MP3 players. Now, we are mastering the art of combining touch and display into thinner, more flexible and responsive displays. Indeed, flexible OLED displays are the fastest growing segment of that sector and we have developed leading-edge technology that addresses its challenges and takes advantage of its benefits.
Since we have been at the forefront of the smartphone display evolution, we have a unique perspective on where the future of smartphone displays is going. We offered the readers of EE Times our view of what lies ahead in the all-important smart phone display market. Spoiler alert: We are bullish on a continued push toward more innovation to entertain and delight consumers.
While there has been a lot of hand wringing of late regarding the slowdown in the overall smartphone market, we see continual innovation in display technologies and we believe there is strong growth inside the market towards these innovative and advanced display technologies. Particularly as we move to the 5G era, the ability to more seamlessly interact with our devices via their screens will bring more.
In our article, we touch upon the future of flexible OLED as a display technology, how foldable phones might evolve, the impact of 5G on our smart devices, as well as a peek into some feature's consumers can expect to see, such as Face Detect technology using AI.
Read our perspective here in EE Times magazine.