Hear That? It's Another Synaptics Breakthrough!
Oct 02, 2017
By Huibert Verhoeven
The world's first touchpad. Display drivers delivering rich, vibrant images. Integrated touch and display solutions. Biometrics that tap humans' unique characteristics for secure identification and verification.
When you look at Synaptics' history of innovation and consider we've almost single-handedly evolved how humans interface with machines, it makes perfect sense, so to speak, that we're now delivering another way to connect people with technology: voice and audio. As with our earlier paths to market leadership, we've invested -- and intend to be a leader -- in the exciting market for voice-interaction solutions that enable artificial intelligence, or AI. And to help reach that goal, we're making it extremely simple to develop such products using cutting-edge voice and audio processing technology.
Voice and audio, the fastest-growing market segment for human-interface solutions, is a natural path and logical next step for Synaptics. After all, speaking and hearing are as natural for people as are touching and seeing. Introducing voice and audio to the human-machine equation has taken the now-common form of voice command and response. Far-field voice control is rapidly permeating today's "smart home" through voice interaction between users and a multitude of consumer Internet of Things (IoT) devices.
The market is expanding rapidly, as is the ecosystem of voice-and-audio providers. There are countless personal assistant-driven products either in concept phases or already on the market, including names such as Amazon, Microsoft, GE, Samsung, Apple, Google, Baidu, Alibaba, Tencent and Naver. These voice-activated AI personal assistants provide quick access to news, entertainment and answers to everyday questions, as well as control of IoT household appliances. Given their growing popularity, far-field voice solutions represent a super-charged market -- one in which the competition is fierce and players from across the technology landscape are hungry for a piece of the growing pie.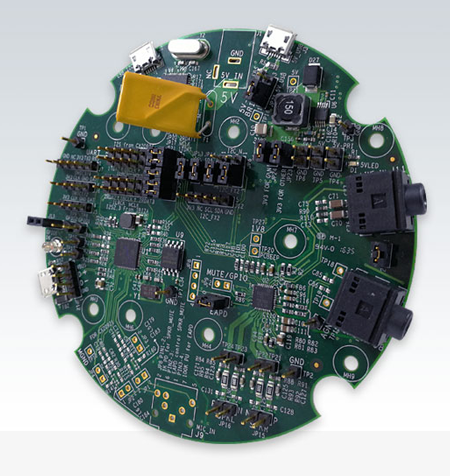 To achieve our leadership position in voice solutions for consumer IoT, we're addressing the developers – the people who conceive, refine, test, and build the voice-enabled devices many of us interact with daily.
Developers typically don't start from scratch. Instead, they often rely on proven development platforms or development kits. Development kits provide developers with the necessary hardware, software and instructions to "hit the ground running" and bring design concepts to a market-ready product.
To truly empower developers to make their designs optimally useful, the development platform needs to be platform-agnostic. In the voice-enabled consumer IoT market, such development kits could yield designs usable across any number of personal-assistant voice services, such as Apple's Siri and Amazon's Alexa (dominant in North America and EMEA), Bauidu's DuerOS in China, and Naver's Clova (in the Japan and Korean markets).
Synaptics has positioned itself at the epicenter of far-field voice product development with our new AudioSmart® technology, which blends industry-leading analog, mixed-signal and digital signal processing (DSP) technologies for high-fidelity voice and audio processing. AudioSmart and its supporting development kits are revolutionizing how voice-enabled consumer products are developed. To prove just how powerful and versatile these kits are, converting our Alexa solution to DuerOS was a matter of simply editing a few lines of code!
Leveraging Synaptics' design services and expertise in acoustics, we work closely with our ecosystem partners including SoC suppliers, system integrators, ODMs and OEMs as they bring their AudioSmart design concepts to reality. We provide guidance on crucial system development issues, such as a design's microphone and speaker placement, while addressing users' real-world needs. In fact, our AudioSmart technology has the distinction of enabling designs with as few as two microphones while still matching the performance of designs using several microphones. This simplifies AudioSmart designs and lowers end-devices' overall bill-of-materials costs. It also provides the flexibility to enable voice interfaces regardless of whether the device sits on a table, mounts to a wall, or hangs from the ceiling.
AudioSmart technology and Synaptics' development tools are already at the center of far-field voice designs that have realized both cost efficiencies and faster time to market. For example, Amazon cites Synaptics' 2- and 4-microphone development kits as a key reference design platform. Additionally, AudioSmart has been designed into the recently introduced Anker Eufy Genie smart speaker, a compact, two-microphone Alexa Voice Services device. And our partnerships with Naver, Harman, Tencent and Baidu, among others, highlight a wide pipeline of new products in development globally.
As with our breakthrough touch, display and biometrics technologies now regarded widely as industry standards, we anticipate equally great things for AudioSmart and Synaptics' other emerging consumer-IoT solutions. And market projections support that there's fertile ground for such solutions; data from IHS Markit point to the consumer IoT market reaching just under $2.7 billion by the year 2020, up from $1.75 billion in 2016.
So, buckle up for what's sure to be a high-speed ride through consumer IoT. And Synaptics, equipped with our AudioSmart technology, fully expects to be at the forefront!
News & Views
Press Releases