Among the Best -- and Getting Better
May 17, 2016
By Karen Gaydon
There's no single reason why Synaptics is a fantastic place to work. Even for someone heading up the company's human resources, I'd have a difficult time listing them all. But I can point out that we're not the only ones who know it's a terrific company to be a part of, because the San Francisco Business Times just named Synaptics one of the best places to work in the Bay Area – Again!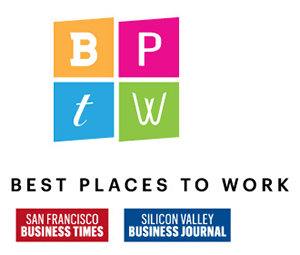 We were ranked #35 out of 125 in the large companies category – among some of the best-known and well-respected companies in this highly competitive technology region we call home. We're very proud of this much-deserved accolade. You can read about it here.
A workplace environment recognized in this way doesn't just happen; scores of dedicated Synaptics employees – whom we've coined Synapticians – have created and perpetually enhanced a company atmosphere that encourages new ideas, rewards success and celebrates diversity. From its very beginning three decades ago, Synaptics has placed innovation – and the recognition of the employees responsible for it – at the forefront. Also over that three-decade period, we've hired the industry's brightest talent to fuel our ascent to the market leadership position we now hold.
When the San Francisco Business Times asked us what makes Synaptics a special place to work, we practically ran out of space to respond! We did, however, highlight the unique blend of programs and perks that make it an exceptional company: E-learning courses to help advance employees' careers; our Tech Talks series for spirited knowledge sharing; Bravo awards where employees can recognize and reward colleagues; the Global Wellness program, on-site gym and fitness classes – all reflecting Synaptics' emphasis on good health and well-being; massage therapist visits; our concierge service; and the dog-friendly work environment.
Still, what truly defines Synaptics and makes it unique – indeed, the very backbone of the company – are our core values. We value innovation, and we innovate to win. We build strong relationships with our valued customers. We have a passion to make a difference in our world, and enthusiastically act on that passion through our support of philanthropic and charitable causes. And, of course, we foster an exhilarating and rewarding work environment – a fact that's now even more widely known, thanks to Synaptics being recognized as a top company for which to work.
So here is a well-deserved shout-out to all Synapticians, THANK YOU!
News & Views
Press Releases