30 Years and an Unwavering Commitment
Mar 18, 2016
By Rick Bergman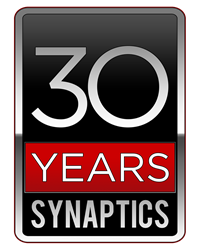 Thirty years ago, I graduated from University of Michigan with a BSEE. At the time, IBM was the leading PC company, the internet didn't really exist and early portable phones were still about five years away. At about the same time, a tiny company was founded in San Jose committed to constant innovation around the human interface.
Thirty years is a long time by nearly any measure, but it's practically an eternity in the technology world. Companies in this industry arise, develop market-defining products and more often than not, business conditions dictate they take new directions, making them unrecognizable from their origins – or they simply fade away and cease to exist. That all-too-familiar arc makes it even more remarkable that Synaptics this month celebrates 30 years as a company – one whose continuity and success over those three decades is rooted in our dyed-in-the-wool commitment to enhancing how people interact with technology.
Over those three decades, we've essentially redefined the human interface as it applies to intelligent devices. From the world's first touchpad, adopted early on by the industry's top notebook PC makers, to our touch, display and biometrics solutions presently deployed widely across the technology landscape, Synaptics has consistently led the industry with our storied innovation and keen market awareness. This leadership, of course, wouldn't be possible without having both assembled teams of outstanding employees and developed lasting, mutually fruitful relationships with the world's foremost names in technology.
I was asked during an interview not long ago about trends that could impact our continued growth. While there are countless factors that determine how companies do or don't grow – a large number of which are out of their control – the one constant at Synaptics has been the premium we place on the human interface, and staying true to our core values. Computers, smartphones, tablets, and cars don't need more gigahertz or megabytes. Rather, because of their complexity, they need to be conceptualized and designed through a user experience lens. And this is where Synaptics has consistently maintained leadership – assuring the user experience is simple, friendly and intuitive.
We've never wavered from our commitment to refining the human interface, manifested over the years in outstanding products used daily by billions of people around the world. And though Synaptics is now an industry-defying 30 years old, we feel we've just begun the journey. With the user experience playing an increasingly central role in next-generation computing, communications and automotive applications, we're well positioned to remain the industry leader and poised to drive the next inflection points of man and machine.
While we pause to look back, with great satisfaction, at our three decades of innovation and market success, we still have our sights set squarely on the future – and the challenges inherent in this dynamic, ever-changing industry. To meet those challenges, we constantly ask ourselves: How are we going to win? Throughout Synaptics, that single question – you might even regard it as a mantra – permeates how we approach our customers' needs and where we focus our attention and resources. That approach to business has served us well over the past 30 years and we fully intend to carry it into the future. And who knows – maybe the future holds another three decades of Synaptics leading the human interface.
Please join me in congratulating our dedicated employees, past and present, and our valued customers and partners for making Synaptics the truly outstanding company it's been for 30 years.
News & Views
Press Releases